If you have checked out the new Poptropica map lately then you know that there's a new island coming out called Great Pumpkin Island. It will feature a lot of the Peanuts characters like Charlie Brown, Lucy and Linus. The story of the island will be based on the very famous Peanuts TV Special called It's the Great Pumpkin, Charlie Brown. In this story, Linus misses Halloween because he waits outside in the pumpkin patch waiting for the Great Pumpkin to arrive. It sounds like the story of the Poptropica island will be a lot like it.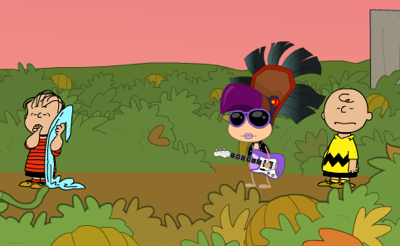 If you go there now, you can see Linus, Charlie Brown, and Lucy standing around in the pumpkin patch. Click on them to talk to them and learn more about the upcoming quest. This will probably be a mini-quest. It's marked as being "Easy" on the map, and it will probably work a lot like last year's mini-quest for Halloween.
BTW, did you see that last year's Halloween mini-quest now costs 350 credits in the Poptropica store? It was free up until just a short time ago. It's still worth doing for all the amazing Halloween costumes you can get at the very end.